Dear All,
May Our Holiday Gift to You Be Your Gift to Your World: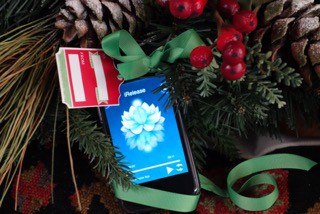 The iRelease App – Guided Meditation to Relieve Stress and Increase Energy Instantly. 
We all have the natural ability to let go. The iRelease App is an easy, practical and gentle reminder, like having a loving friend we can turn to whenever we need during this Holiday Season, and beyond.

"Thank you very much! My gift to you is that I forwarded it to many other people." Karen, CT
"Thank you, Annrika and Tim! This app made my day." Nilesh, CA
"It's an amazing app! It has helped revive my releasing. Thanks ever so much." Michael, UK
"With this app focus is so easy and effortless, like a laser cutting to the core of feelings that spontaneously arise. Simply focusing on the lotus is calming." Sara, CA
"What a wonderful and generous gift–thank you so, so much! I enjoy it a lot. The images, the whole setting is very beautiful, just a joy to look at. And the releases–just perfect!" Christina, Austria
"It's a must-have app for anyone who wants to quickly find their center and get to the state of peace. I've sent it to be a Christmas gift to all my friends and family." Nihal, Turkey
"I love this app! So helpful for relaxation." Mike, MA
"So love this app! What a generous gift and Blessing. Being new to releasing, this gives immediate support on my phone and iPad, with great guidance, plus lots of topics. So happy and grateful, thank you." Marilyn, WA
"I love it! Thanks for this free app!" Tim, UK
"I am so delighted to have this app. It starts my day, a quick release to set me up for a blissful day. I can't recommend it enough." Julia, CA
"I started using the App, and the 'End of Day' is awesome." Chris, Australia
"Thank you; it is so amazing that I could feel that I'm enough after a few times listening to the process. The app itself is a lot of fun and enjoyment, just listening to the voice is a relief itself. I love you both so much; you made my life better. Thank you for all that you are doing for the world." Ahmed, Tunisia
"Thank you so much, I've been using the releases the last two days and am finding that I have more peace and serenity." Sonja, CA
"Thank you, Annrika and Tim, for this amazing app! I love it so much, and what you infused within. Much love and happy holidays!" Dianne, AZ
"I love this app! Thank you guys! Very well done!" Mona, Canada
"I love the app! I have been sharing it with family." Karen, UK
"Having the iRelease on my phone is terrific. Used it twice today while in the car doing errands. It is like having my releasing partner instantly with me and guiding me so perfectly. Feeling so good! Love it!" Marilyn, WA
"Thanks a mill guys!" Christine, Australia
If after using iRelease you've found it beneficial, please give it a favorable review in the App Store. Also, we invite and encourage you to share the iRelease App and allow your friends and loved ones to rediscover the ease and joy of letting go.

"It's only natural to share something good, to tell others about it…and this is exactly what people are looking for."  Lester Levenson
iRelease is available in the App Store for iPhone, iPad or iPod Touch…and it's available now for free! The Android version is in development, coming soon!
To download your iRelease App click here.  Happy Holidays!

Love,


Annrika James, Licensed Sedona Method Instructor and Certified Coach
Tim McCavitt, Licensed Sedona Method Instructor and Certified Coach
Creators of iRelease: Your Anywhere, Anytime Sedona Method Releasing Buddy
Sedona Releasing Worldwide
SedonaReleasingWorldwide.com
FaceBook.com/SedonaReleasingWorldwide